Hall of Fame - Bunny Wailer - Grammy Award

As a Producer, Car l worked with Psalms (formerly Gaylads), Daddy Tar, Captain Blood, ET Webster, Dean Frazer, Bloodfire Posse, Doreen Shaffer, Ken Bob, Robert Ffrench,Earnest Wilson, Pan Head, Tony Rebel, Apache Scratchy, Nardo Ranks, Michael Fabulous, Tippa Lee & Rappa Robert and Desi Roots.

Carl has the experience of touring with Bloodfire Posse, Big Youth, U. Roy, Judy Mowatt, Bunny Wailer, Israel Vibration, Roots Radics, Andrew Tosh, Yellow Man, I Kong, Cutty Ranks, Flourgan and Gregory Isaacs.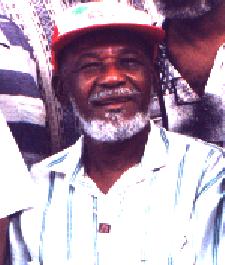 ROBERT "BOBBY" ELLIS
Bobby was born on July 2, 1932. At the age of nine (9), he attended the Alpha Boys School where he began learning to play the trumpet. He spent three years, under the tutelage of Mr.Neilson, and was also assisted by Raymond Harper a senior player. For one year after, he continued his tutelage under Mr. Tulloch and for some years with Mr. R. Delgado until he left Alpha in 1948, at age sixteen.
In 1956, he resumed his playing and continues until today. Bobby played in various orchestras and bands such as the Mighty Vikings, Soul Brother, Lyn Taite and the Jets and The Solomonic Reggaestra, to name a few.
Bobby did his first recording with the Mighty Vikings at Coxonne Studio One in 1964 and continued to work with Studio One for many years, turning out hits for various artistes.
Bobby played for Bob Marley and the Wailers, Toots and the Maytals, Jimmy Cliff, The Ethiopians, Alton Ellis, Dennis Brown,Burning Spear, Bunny Wailer and many others.
On instrumental albums, Bobby played for Herbie Mann's Reggae Album, Blazing Horn, Bobby Ellis meets the Revolutionaries, as well as Sweet Meat, Up-Park Camp, Shank I Shek; Stormy Weather & Cyrus.
EVERTON GAYLE
Everton Gayle, attended Alpha Boys School where he started to play clarinet at a very early age. Everton joined the Jamaica Military Band in 1973, and later graduated from Newcastle Training School as a soldier. He was selected to attend the Royal Military School of Music in England and was awarded the Professor\rquote s Prize for the most improved pupil. Everton sat the Royal School of Music diploma examination and was successful in grade V and grade VIII, both in theory and practical.
Everton returned to Jamaica in 1976 and wa s promoted to the rank of Lance Corporal. He left the Jamaica Military Band in 1982 and started to play with the Mighty Avengers, Kotch and Bunny Wailer. Everton toured France extensively, also Africa, The United States of America, Japan, South America and the Caribbean. He also worked with some International Stars such as Aretha Franklyn, The Dells, Ben E. King, Lou Rawls, and The Mighty Arrow.
BARRINGTON XAVIER BAILEY
Barry's musical career began with singing stage shows as a child.By the time he was fifteen, he was recording some of his own songs.At this point he realized he wanted to play an instrument so that he could have more control over his musical career.
Barry knew from an early stage that the trombone was his instrument, because that sound moved him emotionally. Naturally, Don Drummond was a strong influence on him musically.
Although he was learning to play the piano at the time, he was offered the opportunity to learn to play the trombone by Mr. Babe O'Brien; musical instructor for the N.V.O., he played with the orchestra for some time.
The break came in his musical education when Melba Liston, a great trombonist from the U.S.A., came to Jamaica to teach at the Jamaica School of Music. This influenced him to enroll; Barry finally had access to the tuition he had been waiting for and after four years at the music school, Barry was ready to begin playing professionally.
Barry has played with Groups such as, Sonny Bradshaw, In-Crowd, Seventh Extension, Mighty Diamonds, Bunny Wailer and also worked with American Artists such as; O'Jays, Lou Rawls, Ben E. King and the Dells. He at present does extensive studio work.
KEITH FRANCIS
Keith started at the Bohemia with the Titans in the early 70's, then he went to Canada to play with a new band called Names and Faces. When he returned home in the late 70's, he started out with the Sonny Bradshaw Seven where he stayed for six months. Then he joined Handel Tucker at the Jamaica Hilton in Ochi Rios.
He became one of the original member of Chalice in 1980, in the meantime he also toured with Rita Marley and Cutty Ranks. Now he is producing on the 7x17 Marshalls label.